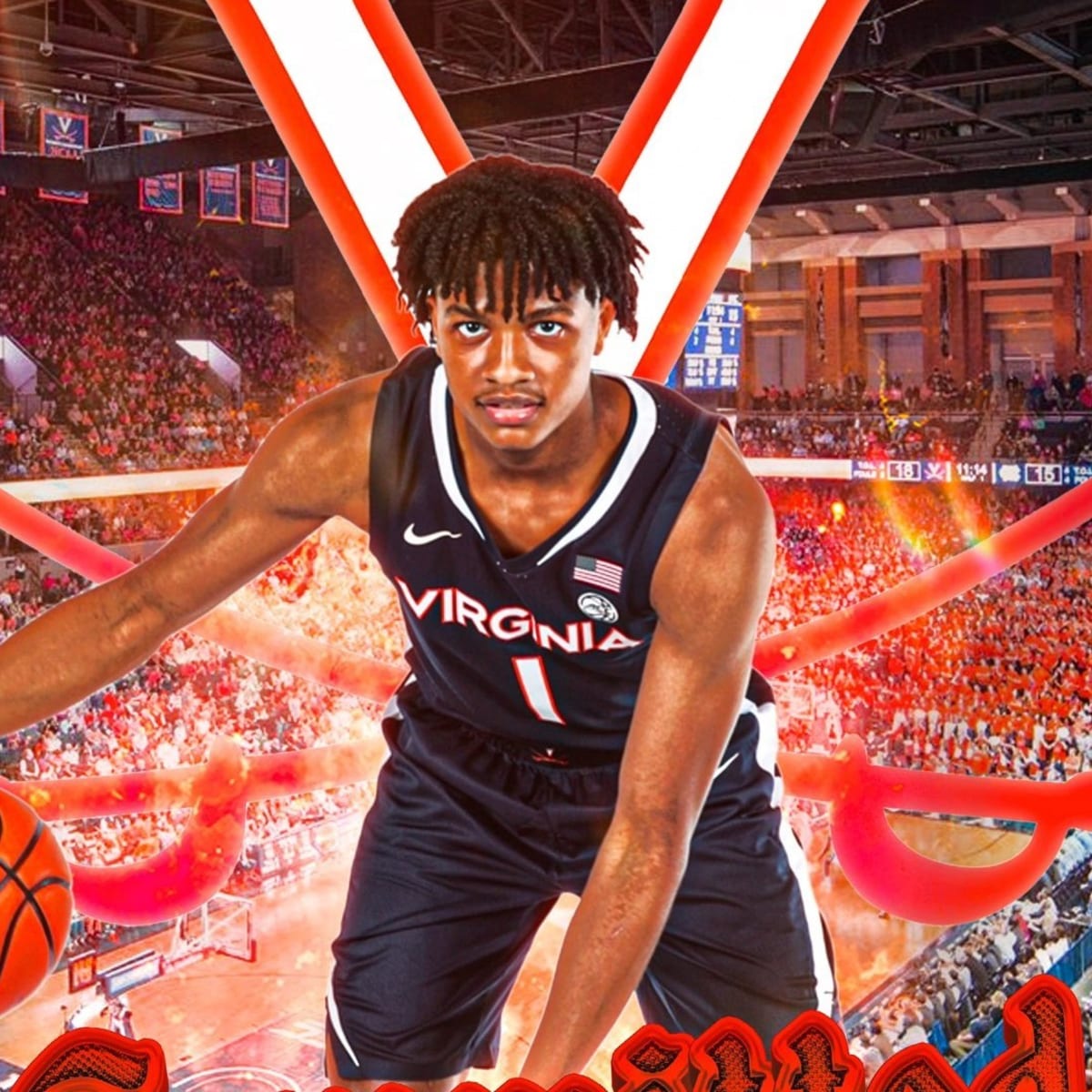 Both excitement and relief seemed to surge through most of the fanbase on Wednesday as 6'3″ Elijah Gertrude, one of the fastest risers in the 2023 class (#36 overall on 247 Sports, #3 ranked SG), committed to wear the (hopefully) orange and blue. The relief came on the heels of the respective London Johnson and TJ Power sagas where we, for various reasons, just missed out on highly coveted recruits (not to mention Kaiser, Momcilovic, etc.). What had become a pensive recruiting cycle, immediately changed texture and tone. Somewhat ironically, Gertrude has become more highly ranked on 247 than all but Power among that group above.
But mostly, it was a feeling of excitement as Gertrude now becomes one of the highest recruits of the Tony Bennett era. He brings the perfect skillset to compliment the roster over the next several years. Listed as a true Combo Guard, those plugged into the recruiting scene RAVE about his athleticism saying that Gertrude will immediately be the most athletic player on the roster (something that shocked me considering the presence of Beekman). But, having looked into some of his highlights since the crystal ball predictions started to come in, I believe it. Here are a couple of my favorite examples:
The camera angle makes this one a little tough to follow at first, but that's Gertrude pressuring the ball on the right sideline and getting the steal. He then tiptoes down the baseline with the ball while staying in bounds. So, he's gone from the right sideline, down the baseline with the ball, and then races up the left side of the court, beating the entire opposing team down the floor with a strong finish at the rim. Surely this is the kind of play it's easier to make against high school competition than at the collegiate level, but the raw speed and explosiveness is on full display. In a way, it reminds me of those old John Wall fast breaks where he didn't have the numbers but it didn't matter because he was just faster than everyone else.
The thing about this one I want to point out is that Gertrude is 6'3″ – the same height as Reece Beekman. This is simply a deflection of a rebound that finds its way back to him, but he scoops it and goes right up for the two handed dunk. No running start here, as he collects the ball he moves into a jump stop, elevates, and dunks with ease. If this is even last year's Jayden Gardner here, 3 inches taller, he probably lays this off glass for the score. It gives a great sense of how springy Gertrude is and how he can casually play above the rim.
He loves to create his midrange jumper off of the bounce, using his afore mentioned athleticism along with an impressive handle:
What I love about the play above is that he's against a considerably larger player who initially bumps him off of his dribble and disrupts his momentum; something he will likely face often in ACC play. Unfazed, Gertrude uses the change of pace to create misdirection setting up his cross-over into his shot. It's all very fluid, adaptable, and quick twitch. It's also perceptive realizing that his defender will likely thing he's created an advantage with the contact, and playing off of that.
This play got me really excited. Yes, it was a pretty sick cross-over to free up the shot, but here Gertrude hangs onto his jumper and waits for the shot blocker to clear prior to releasing. You see this in the NBA all of the time among superior athletes who are able to hang just a little bit longer; who have the presence of mind and skill to apply that ability to moments like these.
By all accounts, his three point shot is the most work in progress part of his game and also where he's made the most strides recently as a player. I don't expect him to come in and light the world on fire from outside, nor should he have to with our roster, but he does appear to be willing and capable in this area with room to grow under CTB:
Both of these shots are pure, but what I like most is that he steps into them with confidence and without hesitation. The second of these appears to be on the road against an engaged crowd. Point being, I fully expect his outside shot to be the aspect of his game where he struggles the most out of the gate at the collegiate level, but I also expect this to be an area that can and will become an asset of his after a couple of years working with this coaching staff.
Not many defensive highlights to find in these except for some big blocks, which shouldn't be surprising – but by all accounts, his defense is actually the best part of his game. He's made several comments publicly about how much he prides himself in that area which, especially given his length and explosiveness, has to have CTB salivating. There are several anecdotal accounts on social media within recruiting circles of him shutting down 5 star players. Plainly, Gertrude has the tools to become the best perimeter defender we've seen at UVa… I'd place a wager he will be.
Looking Ahead
Most beat folks close to the UVa program that I've seen do not view Gertrude as a long-term answer as our primary ball handler. I haven't been able to figure out exactly where that's coming from, whether it's the opinion of the coaching staff (I think unlikely), just the fact that he hasn't done it on his current team, or just opinion through evaluation. What I will say is that those familiar with Hudson Catholic (Gertrude's HS team) have voiced a different opinion. Tahaad Pettiford is the team's current PG. He is a talent in and of himself as a top 100 prospect within the 2024 class and, at 6'1″, is a much more natural fit for the position. There seems to be a groundswell that Gertrude is simply unproven and untested in this area but has the tools to do so. He has a good handle, rarely makes bad decisions with the ball, and makes crisp passes – like this one after breaking the press:
I certainly hope this is the case for a couple of reasons. For one, unless we land PG Elmarko Jackson from this class, which seems unlikely, we're looking at 2024 prior to landing a "pure" PG. This would mean that after Reece Beekman's departure (assuming he doesn't stay a 5th year), that we'd be relying on a Freshman to play primary point, something that CTB has done in the past but still isn't ideal. Additionally, Gertrude and McKneely are simply too talented to keep off of the floor together. Using 247 base ratings for the sake of discussion (recruiting rankings can vary and are surely subjective to a degree), they're the two highest recruits we'll have on our roster at 36 and 50 respectively. We're also going to want Dunn/Bond in that SF position to offer their size, so sliding either guard down to the SF slot seems less than ideal and harkens to the challenges we're facing with playing Armaan Franklin out of position.
Looking ahead to next year, assuming most key players stay and barring any hugely impactful transfers in, we'll have Reece Beekman as our starting PG, Isaac McKneely as our likely SG, either Ryan Dunn or Leon Bond as our SF, Isaac Traudt as our PF, and Kadin Shedrick as our C. Gertrude fits perfectly into that backup role for both Beekman and IMK with Blake Buchanan potentially backing up both Traudt and Shedrick (don't rule out a frontcourt transfer in as well).
But what about the following year? Assuming (which might not be a safe assumption, but for the sake of discussion) no 5th year Seniors or PG transfers, Beekman's departure is going to create an immediate need and one which Gertrude's skillset overlaps so closely. Sure, a 2024 PG would help but having Gertrude creating, slashing, and/or hunting his shot with IMK and Traudt poised as snipers on the outside seems very good. Ultimately, I think it's going to be a waste of talented resources if he doesn't play that role with regularity.
Big Recruiting Win/Historical Context
I want to wrap by talking a bit about what this recruiting win means in a historical context and why I believe it's such a great sign, especially within the NIL landscape. For the purposes of this discussion, I'm just going to use the 247 player rankings. I prefer using their rankings to the composite rankings because they're often good about updating them late in the recruiting cycle where as some other lists often don't adapt as well to the progression of the season. This is mostly just a personal preference, though. They can be found here: https://247sports.com/Season/2023-Basketball/RecruitRankings/?InstitutionGroup=highschool
I also want to be very clear that I'm well aware that just because a recruit isn't more highly touted doesn't mean they can't contribute positively to the program and just because a recruit is highly touted doesn't mean they will contribute positively to the program. When we talk about recruiting rankings we're talking both about the base potential that you're bringing in the door as well as beating the competition from other programs to attract these players. Darion Atkins won the 2015 Lefy Driesell Award for National Defensive Player of the Year despite being the 320th ranked recruit in 2011. Jabri Adbur-Rahim sat on the bench for a season and then transferred to Georgia despite being the 41st ranked recruit in 2020. But holistically, you're obviously more likely to raise the collective ceiling and talent level of your team when you amass a pool of higher ranked recruits – especially when it's a pool of recruits that CTB has targeted and sought after.
If you look back over the years, CTB has historically recruited in waves. He'll land one big class of highly ranked 3-4 players or so (2012, 2016, 2022) augmenting what he already has in place and then attempting to fill in any gaps after the fact. In 2012 we landed 3 top 100 players; 54th ranked Justin Anderson, 66th ranked Mike Tobey, and 80th ranked Evan Nolte to pair with 84th ranked Malcom Brogdon and 124th ranked Paul Jesperson from the year prior. They supplemented that group the following year with 62nd ranked Devon Hall and 165th ranked London Perrantes (rankings varied wildly on these two but most viewed them as borderline 3-4 star type guys). That core (losing Jesperson, Nolte not living up to expectations, players like Harris, Mitchell, Atkins thriving) became the springboard that launched our program into the dominance that it built over the past decade. It was CTB's most heralded class at that time, surrounded by quality but not marquee classes on either side.
What I want to draw attention to, though, is the years following. Post 2012, we were still able to add 2-3ish players per year in that bottom half of the top 100 range top half of the top 150 range. In 2014, after Hall and Perrantes we added 75th ranked B.J. Stith, 97th ranked Isaiah Wilkins, and 120th ranked Marial Shayok. That big class was supplemented by a steady flow of low 4 star/high 3 star guys.
People forget that in 2015, Mamadi Diakite shot up the recruiting boards late. He finished 27th(!?!) on 247 which, even if you want to dismiss as an outlier, he was still 32nd in the composite ratings. Diakite actually finished as the highest rated recruit of the CTB era (and boy did we see it on display late in his career). That class was just him and Jared Reuter, who was ranked 175th. Fast forward to the 2016 class in which I'm sure we're all well versed. In comes 31st ranked Ty Jerome, 36th ranked Jay Huff, 43rd ranked Kyle Guy, and 106th ranked De'Andre Hunter. It was easily the most talented and consolidated class in the history of the program and with it, along with Diakite, transfers, unheralded recruits, etc., the team dominated for years and accomplished its ultimate goal in 2019. 2016 was a more talented pool than 2012 – but what I want to draw attention to is the years following.
In 2017, we landed Marco Anthony, ranked 192nd, and Francesco Badocchi, unranked in the top 250. In 2018, we signed 148th ranked Francisco Caffaro and then, unranked in the top 250, Kihei Clark and Kody Stattmann. Now, obviously at this point there was a lot of competition within a completely loaded roster which ostensibly made joining the program less appealing. I'm also not discussing transfers, which have obviously played a huge role in our program. But the recruiting landscape lays the groundwork for the program. How many quality options do you have available? How much continuity can you bring to the team with the options that you have (especially in CTB's system)? Knowing that not all recruits hit or stay, what does your organic bench look like? Never before at any point during the CTB regime had we had one, let alone two consecutive, years in which we brought in no recruit within the top 100, let alone almost missing out on the top 150 altogether, and we certainly felt it after the fact. Despite winning an ACC regular season title in a COVID-impacted year, the team hasn't played at the level it was from about 2014-2019 as a result. And, to be clear, I'm not placing blame for these classes – the program was very good but hadn't yet won a championship nor even made a Final 4. Enticing players to a newly elite program still underappreciated on the national scene without much of a path to playing time was a challenging sell.
All of this happens in cycles. The 2016 class paved the way for the 2019 championship. It also paved the way for some sparse recruiting classes in 2017-2018 which paved the way to our team missing the NCAA tournament last year for the first time since 2013. But in 2019 we DID win the title, and I'm here to tell you that yesterday at 4pm EST, we finally saw the full impact of that on the recruiting trail. 2019-2021 were back to the previous status quo, with 5 top 100 recruits over that timeframe as well as other players in that borderline 3-4 star mold supplementing. In 2022, we hit on our next big class, 50th ranked Isaac McKneely, 58th ranked Leon Bond, 78th ranked Isaac Traudt, and 144th ranked Ryan Dunn. The team projects to be similarly loaded over the next several years as it was in the wake of 2016. But, contrasted with that 2017 class of players on the fringe of the top 200, we just landed the 3rd ranked shooting guard in the country, while competing with Kansas to do so, to complement the 67th ranked Blake Buchanan, who we landed despite competing with Gonzaga! And we may not be done. While not the favorite, we're still in contention for 17th ranked Andrej Stojakovic, 18th ranked Elmarko Jackson, 31st ranked Taison Chatman, and 109th ranked Davin Crosby.
Even if the most likely scenario plays out and we don't walk away with any of those additional guys, the fact remains that we have been incredibly competitive on the recruiting trail for, on average, a much larger number of players who, on average, are more highly rated than ever before. And we've already landed two of them!
In Conclusion
Apologies for the stroll down memory lane and the plethora of rankings and lists. It was an attempt to really shine a spotlight on how encouraged we should be with the way things are developing. Any hand wringing about our recruiting misses has cause to abruptly end. Any hand wringing about NIL hindering our draw should abruptly end. It takes time, but the fruits of 2019 are being harvested now. Never before have we been as successful or had as many opportunities to stockpile and string together this high-level of talent class over class. Add our ability to draw high quality transfers to the program as, once again, a supplemental weapon rather than being something we're dependent on, and I think you're looking at the opening of another prolonged title window, starting very soon.
Elijah Gertrude is a perfect fit for our program on the court and in the locker room but, more than that, he's a shining example of how far we've come and where we're still headed. Welcome aboard!